Individual Prenatal Course
Související produkty
Detailní popis produktu

Individual Prenatal Course
Our Individual Prenatal Course in English is intended for expectant parents who do not want to participate in the group course.

Each birthing experience is different, and therefore, is a great advantage when childbirth instructions and information are tailored to your specific needs and concerns.
Time
3 hours

Or more according to your wishes.
Price
5350 Kč

Course fee for couples. Every other hour CZK 1500.
Location
In the privacy of your home (for Prague and surroundings)

Or in Aperio

Or Online
Topics
The range of topics for individual consultations is as diverse as for the group courses. It's up to you what you are interested in and what you want to know.
Changes during late pregnancy: physical and emotional changes, healthy living during pregnancy, nutrition, breathing.
Signs that labour is about to begin: first stage labour, dilation, at what point should you go to the hospital, specifics of Czech maternity hospitals, things to take to the hospital with you, formal admittance to a hospital's labour and delivery ward.
The role of a birth partner: what will the birth partner need to do during childbirth?
Pain relief options at first stage labour: relaxation, breathing, possible labour medication for pain.
Labour: variations of standard delivery, caesarean birth, self-esteem and assertiveness; second, third and fourth stages of labour; labour support – your partner, a doula, childbirth and delivery nurse.
Postpartum: emotional and physical changes that may come after giving birth, postpartum blues vs. depression.
Introduction to breastfeeding
Introduction to newborn care: behaviour and abilities of a newborn.
Family changes: living with a newborn.
Parenthood: expectations vs. reality, possible sources of support for parents.
Educator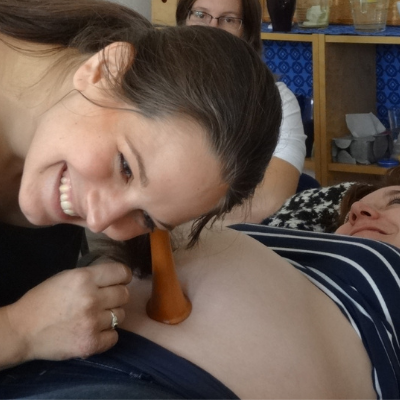 Rebeka
Švecová
Is a midwife, a graduate of the Aperio Academy of Childbirth Educators and a lactation consultant. She is the mother of 3 small children. "This period of life has always fascinated me, but it was only after having my own children that I realised how profound the changes are and at the same time how little things can make the journey more difficult or easier. I want to pass on this personal and professional experience to other women who are interested and who might need it."
With my partner we had many specific questions and we wouldn't be so confident asking them in front of others. This was really intimate, respectful but also full of interesting information and hands-on tips for birth and first weeks with newborn. We are really happy that we chose this individual course.
Buďte první, kdo napíše příspěvek k této položce.
Pouze registrovaní uživatelé mohou vkládat články. Prosím přihlaste se nebo registrujte.