Smooth Birth - Complete Childbirth Education Class
Související produkty
Detailní popis produktu

Smooth Birth - Complete Childbirth Education Class
In our popular complete childbirth education course, you will learn everything you need to know to have a smooth childbirth experience in the Czech Republic in one day.
How does one know that childbirth is imminent? How do your relieve the pain? How to promote confidence in your ability to give birth? What are the specifics of Czech maternity care?
The course is packed with information, hands-on tips, demonstrations of relieving exercises and relaxation techniques. We strongly support that both of the partners take part in the course.
Time
10:00-18:00

with lunchbreak 13:15–14:45
Location
Aperio Dřevná 2, Praha 2
What will you learn?
How will I know that the labour has started?
We will help you understand your body's signals. You will learn to recognise when it is better to wait at home and when you should go to the maternity hospital.
What the key stages of childbirth are, and how they proceed.
We will discuss the examinations you may undergo and preparation for admission to the delivery room.
We will also provide you with a list of recommendations on what to pack with you and what can be included in the birth plan.
Will I manage?
We will help boost your confidence in your own body and its ability to give birth. We will also advise you on specific techniques to help your body prepare for smooth delivery.
We do not claim that childbirth does not hurt, but we know what positions and tricks help relieve the pain.
We will also discuss possible medical interventions in the first and second stages of labour. We will advise you on how to be assertive if needed.
Yours and your child's safety is our number one priority. Modern scientific knowledge, years of experience and respect for your decision are essential.
The role of the partner
We believe that a woman should have a close person of her choice by her side during this special moment in their life. During the course, your partner will gain confidence and information on how they can effectively support the smooth flow of childbirth.
In our courses, the partner is not just makeweight. Do you know how the birth experience can also strengthen you as a partner? We will focus on that as well.
What else do I get?
We have even more in stock for you: You will receive our stylish canvas bag filled with useful materials from the course. You also get access to a comprehensive ebook and audiobook in English on pregnancy, childbirth and postpartum. You may also download our handy application for pregnant people to your phone.
Do you have any questions? Write to: kurzy@aperio.cz.
Lecturer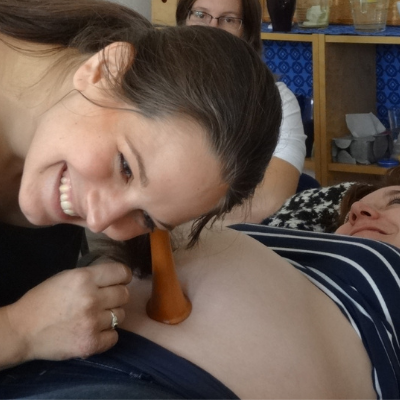 Rebeka
Švecová
Is a midwife with a bachelor's degree, a graduate of the Aperio Academy of Childbirth Educators and a lactation consultant. She is the mother of 3 small children. "This period of life has always fascinated me, but it was only after having my own children that I realised how profound the changes are and at the same time how little things can make the journey more difficult or easier. I want to pass on this personal and professional experience to other women."
This course made us as future parents calmer and more relaxed for sure. We have received good explanations on all the steps from birth and postpartum. The most beneficial for us was information on how Czech hospitals work and what to expect there. Thank you!
Buďte první, kdo napíše příspěvek k této položce.
Pouze registrovaní uživatelé mohou vkládat články. Prosím přihlaste se nebo registrujte.